About Nord Hedmark og Hedemarken:
The Nord Hedmark og Hedemarken (NHOH) bygdelag is an organization for friends and descendants of immigrants from Hedmark, Norway who share an interest in genealogy, history and culture of the region.

The lag is an expanded revival of the former Østerdalslaget which was formed during their first stevne at Fergus Falls, Minnesota on June 18, 1910 and dissolved in 1962. NHOH was formed in August 1995 in Madison Wisconsin.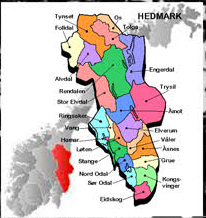 Hedmark lies along the Swedish border in southeastern Norway with the Glåma River running through its center in the østerdal, or eastern valley. The lag covers the northern two thirds of Hedmark fylke and encompasses the three districts of Nord Østerdal, Sør Østerdal, and Hedemarken/Hamar. These three districts currently include the following 16 kommuner: Alvdal, Elverum, Engerdal, Folldal, Hamar, Løten, Os, Rendalen, Ringsaker, Romedal, Stange, Stor-Elvdal, Tolga, Trysil, Tynset, Vang, Åmot.

The bottom third of Hedmark is represented in Solør Lag.
---
President/Contact Person:
Joy Shong
523 S. Concord Rd
Oconomowoc, WI 53066
262)567-9263

---
Contact's Email:
---
Lag Web Site:
nhohlag.org/



https://www.facebook.com/groups/nhohlag/
---
Lag Genealogist:
John Reindl
4514 Gregg Road
Madison, WI 53705-4918
(608) 238-0393

---
Genealogist's Email:
---
Lag Treasurer:
Ronald O. Helstad
32882 County Road 1
La Crescent, MN 55947-4290

---
Treasurer's Email:
None listed

---
Newsletter's Editor:
Shirley Schoenfeld




---
Editor's Email:
---
Lag Newsletter:
NHOH News

---
Stevne Information:
Tre-Lag Stevne (Gudbrandsdal National, Nord Hedmark og Hedemarken, Trønderlag)

August 7-10, 2019 - Tre-Lag Stevne, a joint Stevne of the Gudbrandsdal Lag National, Trønderlag of America, and Nord Hedmark og Hedemarken Lag, will meet at the Holiday Inn in Alexandria, MN.

For more information contact Dick Lundgren.
---
Links:

https://www.facebook.com/groups/nhohlag/
---